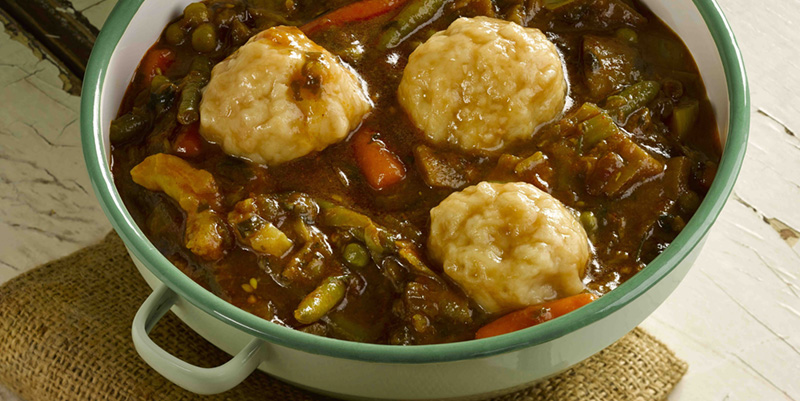 Food Innovation Wales has provided vital technical support to a Llanelli-based food and drink manufacturer to help them launch six new products in the midst of the COVID-19 outbreak.
With a workforce of nearly 50 people, Llanelli-based Prima Foods specialises in the manufacture of suet, dumpling and pastry products. The company supplies the retail, ready meal and foodservice sectors and has a number of major UK manufacturing customers.
Since lockdown started in mid-March, Prima hasn't been phased by the challenges presented by COVID-19 and the company has maintained full staffing levels and manufacturing across key product lines. The business has continued to invest in new product development and look for new customers to diversify the business and maintain growth.
When discussions with a customer led to the development of six new cooked dumpling products, adjustments were needed to the settings of Prima's ovens. Prima needed to be confident these new settings wouldn't impact the quality or safety of their products and so they turned to the Welsh Government backed Food Innovation Wales for support.
Following a comprehensive risk assessment, a technologist from ZERO2FIVE Food Industry Centre, one of three Food Innovation Wales centres, provided socially-distanced on-site support. ZERO2FIVE provided thermal temperature loggers and a technologist supported the company to undertake multiple temperature verification trials. This information was vital to ensure the dumplings were cooked to a safe temperature and will form a key part of the company's food safety system for the manufacture of these new products.
Prima have since carried out further trials, launched their new products and have seen dumpling volumes increase to around 20 tons per week, allowing headroom for future growth.
Peter Rice, Managing Director, Prima Foods, said:
"This increase in business is an important step forward for Prima, as we see consumer trends moving back to more traditional staple products like stew and dumplings and home baking – we are grateful for the support from Food Innovation Wales on this and other more innovative projects we are working on for next year & beyond. We believe that backing a blend of traditional Welsh values alongside a continued investment in innovative new products, will be the key to steering Welsh food businesses like ours, through these difficult times."
Professor David Lloyd, Food Innovation Wales, said:
"Welsh food and drink manufactures are increasingly having to diversify and look for new customers and routes to market to weather the storm of COVID-19. Food Innovation Wales is here to provide support, whether it be verifying the safety of cooking processes or assisting with new product development. We encourage companies to get in touch with their nearest food centre to find out more about the funded support we can offer.

"It's great to see Prima Foods continuing to invest in new product development in this challenging time and we look forward to providing the company with ongoing support."